National Holiday : 9/28 - 10/3

The World's Best Selling
OPTIMA STEAMER!
HOME

WHY STEAM?

INDUSTRY SOLUTIONS

SJE PLEDGES A

GREEN FUTURE

OF
THE CLEANING INDUSTRY
The company is a manufacturer of "green" products who takes pride in quality
products that help our customers not only succeed but also conserve natural resources
and protect the environment.
STEAM CAR WASH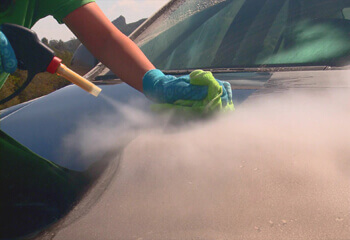 - Make your car gleam with steam!

The steam generated by Optima Steamer is hot enough to lift off any grease and soil and produces enough pressure to break down dirt, dust, and mud efficiently. In less time than a traditional steam car wash, it not only thoroughly washes your vehicle outside, but also sanitizes the interior and refurbishes greasy engine parts anew. It can even also reach the narrowest spaces and fittings that would otherwise be completely inaccessible with a pressure washer.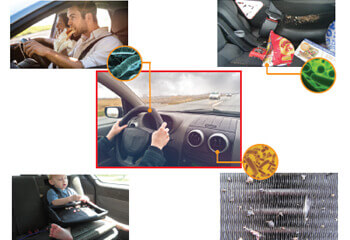 - Drive a clean & hygienic car!

Steam cleaning is scientifically proven to kill all known bacteria and mold. So, it provides you with the most meticulous job out there! Did you know that microscopic parasites are found living on all textiles and fabrics inside cars? By steam cleaning, you can rest assured that your car remains free of mites, parasites and other allergens!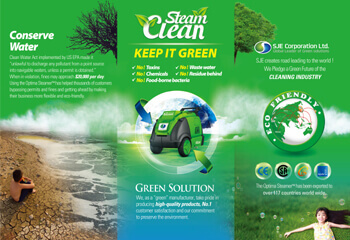 - Environmentally friendly

A steam cleaning machine uses a small amount of water and chemicals to wash the entire car and use 100% natural detergents to minimize negative environmental impact. And the environmentally friendly feature of steam sterilizes and deodorizes cars! This is the most special cleaning method on the market today.
MOBILE CAR WASH
- Unrestricted mobility

If you've ever been disappointed by a conventional steam car wash or had to wait in long lines for your turn, Optima Steamer would be a perfect solution for you.

The mobility due to its all-in-one system allows the customer to wash and detail anywhere and everywhere without the hassle of visiting a car washing outlet and with little to no waste-water run-off.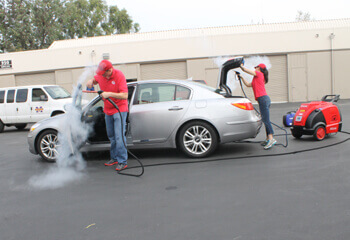 - Comprehensive car cleaning services at your doorstep!

Now, it is becoming a global trend to get your car washed by on-demand, Smart App-based mobile car cleaning services. Once you make an on-line booking via Smart App., a mobile van will drive all the way to your location and take care of your car while you go out. Optima Steamer enables car cleaners and detailers to take their business even on the road with less initial investment and high return on investment.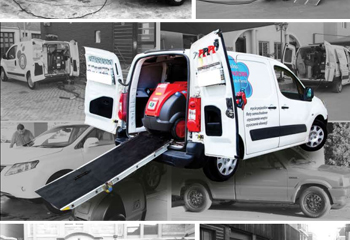 AUTO BODY & REPAIR & DETAILING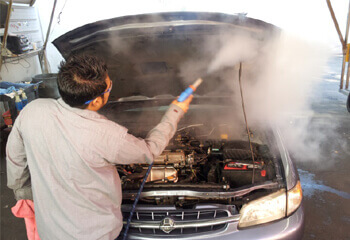 - Supply a complete & simplified operation

Steam is now a vital part of the automotive repair industry. Optima Steamer leaves no residue and makes a car dried almost instantly, avoiding the hassles of clean-up and waste-water maintenance.

Optima Steamer also speeds up the cleaning process by easily reaching nooks and crannies while providing cleaning inside and outside to your vehicle! By washing cars efficiently, Optima Steamer is an ultimate time-saver and a great way for auto-body shops to stay focused on the task at hand instead of unnecessary cleanup.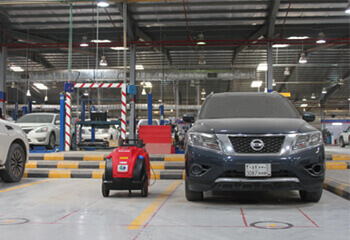 - Help a clean automotive facility to give a good impression on customers

With Optima Steamer, as a one-stop vapor steam cleaning system, you can easily remove a compound in the tightest cracks and crevices. The machine can not only wash a car's exterior, but also its engine compartments, its undercarriages, and even its interior without damaging them.

Optima Steamer not only cleans cars, but also keeps your shops in spotless condition. Remove grease residues, oil stains, and other blemishes of your equipment to maintain your shop to be clean.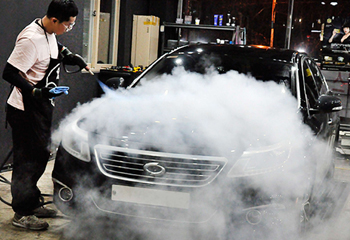 - Provide premium car detailing services and maintain your shops without spots

Optima Steamer enables auto detailers to detail cars by using the steam of high pressure. A cleaning job with steam usually requires no pre-soaking, chemical use, or labor of intensive scrubbing. So, it makes a cleaning process healthier and quicker. The steam of high pressure also neutralizes the germs and bacteria in your cabin. As the cleaning method of steam uses little water (less than 3 liters per service), it becomes an eco-friendly cleaning solution.
CAR DEALERSHIP & FLEET
- On-the-spot, All-in-one

Reduce working hours by finishing a cleaning job with just one machine that does it all! Optima Steamer eliminates the need for chemicals and provides an effective sanitization for the inside and outside of a vehicle. With no waste-water or overspray, you may effectively clean an entire vehicle where it rests at your dealer shop!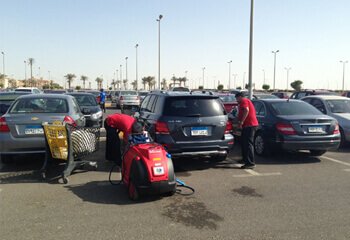 - Provide a quick and healthy cleaning

For selling a car, it is important to keep the exterior and interior of a car clean and hygienic. Compared to a conventional cleaning method, Optima Steamer eliminates bad smells, leaving the surfaces dry quickly. So, the vehicle can be back to its routine operation immediately. With its high temperature (178°), Optima Steamer guarantees the complete elimination of bacteria, lurking germs as well as pests and fleas that can hide away inside chairs and upholstery.
There is little or zero need for chemical detergents which make passengers free from toxic exposure to chemical residue.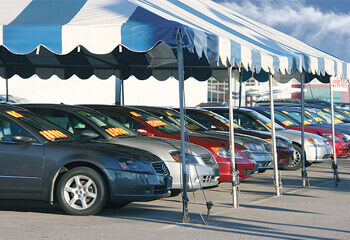 OTHER VEHICLES
- Steam is incredibly effective at cleaning and sanitizing the interior of vehicles, buses, trains and more.

Optima Steamer also is effective in cleaning big vehicles such as buses and trains because it reduces its cleaning hours with steam. It eliminates the hours of using chemicals and provides an effective sanitization for the entire vehicle. With no waste-water, you may easily clean an entire vehicle where it rests at your dealer shop.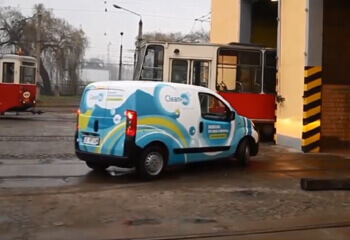 - Safely remove layers of debris and mold

Most powerful boats and sail boats are made of fiberglass, finished with a gel-layer coating that can be easily stained and damaged with conventional cleaning chemicals. In addition to the oxidizing of the gel-coat, the wooden and metal surfaces require cleaning regularly - the battle to keep rust & rot at bay is constant. The damage from water intrusion creates cracks or mold in some areas hard to reach. Vapor steam with its moderate pressure and temperature is the best tool for boat cleaning and prepping jobs. The light pressure of Optima Steamer penetrates and safely blasts away debris from surfaces.
Copyright (c) 2017. SJE Corporation Ltd. All Rights Reserved.